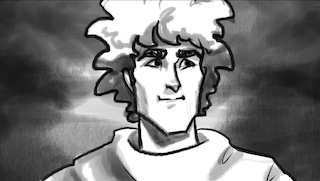 SPOT ON!
This was a school assignment called 'Spot On!' where each student had to animate a short animation with the theme 'space final frontier', which was finally turned into one whole compilation. 
The animation I made is based on two parts of Revelation 12 from the Bible: 
'And there appeared a great wonder in heaven; a woman clothed with the sun, and the moon under her feet, and upon her head a crown of twelve stars: And she being with child cried, travailing in birth, and pained to be delivered.
– Revelation 12:1-2 KJV
And she brought forth a man child, who was to rule all nations with a rod of iron: and her child was caught up unto God, and to his throne.'
– Revelation 12:5 KJV